Solid State Solutions for LiDAR
Light Detection And Ranging
The LiDAR Challenge
Intelligent environment detection - on the way to safe autonomous driving
Todays Situation
Many car accidents are caused by driver inattentiveness or difficult driving situations. Advanced Driver Assistance Systems (ADAS) already support driver with functions like lane assist, traffic sign information, keeping distance, emergency break. But: Current systems still have weaknesses.

Demand
Thinking about autonomous driving, cars have to become smarter to increase safety but also comfort and driving experience.

Challenge
Recognition and differentiation of objects and persons. Need for complete 3D environmental mapping including distance and movement information.
Elmos LiDAR Concept
A reliable and cost effective and approach for intelligent environment detection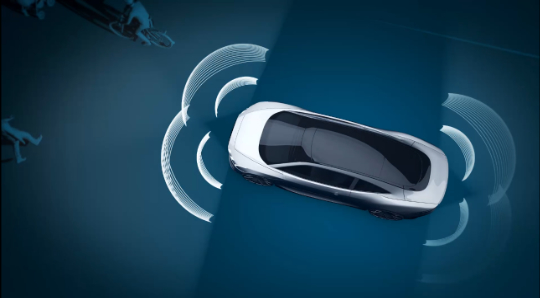 Elmos Solid State LiDAR concept heads forward to make environment detection smarter to meet upcoming requirements for new ADAS and autonomous driving. LiDAR serves a wide field of ToF detection ranges and requirements for diverse applications. As we believe in a strong growing need for nearfield mapping, we are focusing our efforts on short and mid range detection. We are also convinced that our solid state solution succeeds over mechanical concepts.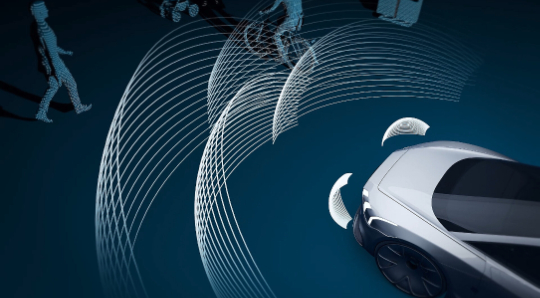 The Elmos expertise lies especially in developing small sized and cost efficient ICs. Regarding ToF, both the Elmos Laser Driver and SPAD Imager present themselves as a perfect pair of products to integrated achievable but powerful and reliable LiDAR systems even in smallest spaces. Learn more about our two innovative products…
Elmos Laser Driver
Detecting the environment – Step 1: Emitting light
Technical Approach
Nanosecond high-power pulsed laser driver
Fully integrated multichip die-stack
Functional safety diagnostics
Chip-stack-on-board design
Usable with a variety of standard edge-emitting lasers (EEL) and vertical-cavity surface-emitting lasers (VCSEL)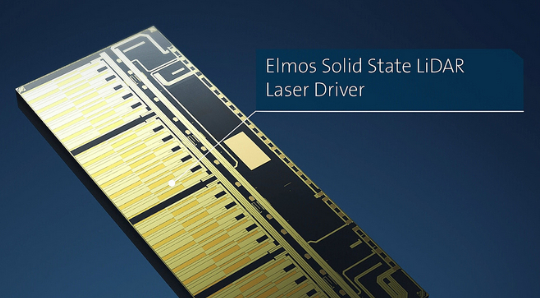 Advantages of Elmos Concept Solution
Optimized for very short pulses at high currents
Scalable 1-to-n-channel chiplet architecture supports majority of LiDAR applications
Monitoring of average output power to ensure eye-safe operation
Cost-effective standard CMOS process
Automotive qualified
Elmos SPAD Imager
Detecting the environment – Step 2: Receiving light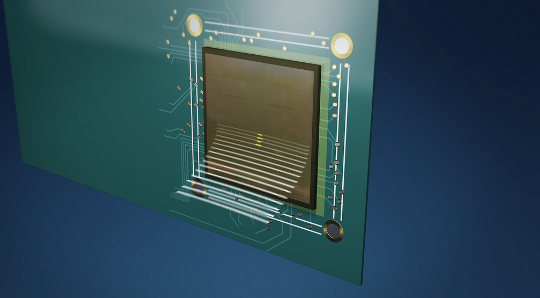 Technical Approach
On-Chip histogramming for high ambient light tolerance
Supports various addressing modes, e.g. row-by-row rolling shutter, e-scanning or line-sensor-mode
High depth-resolution through interpolation
Integrated data-processing with point-cloud-interface
Raw-data access for sensor fusion and advanced environment analysis (e.g. fog and rain)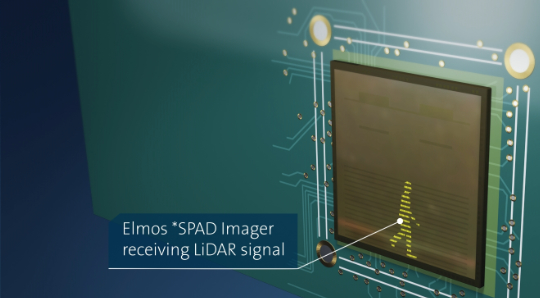 Advantages of Elmos Concept Solution
High ambient light immunity
Increased noise immunity
Massive parallel data processing with multi-channel TDC
Cost effective standard CMOS process
Automotive qualified
Live Tech Demonstrator
Learn more about how our Elmos Solid State Scanning LiDAR System works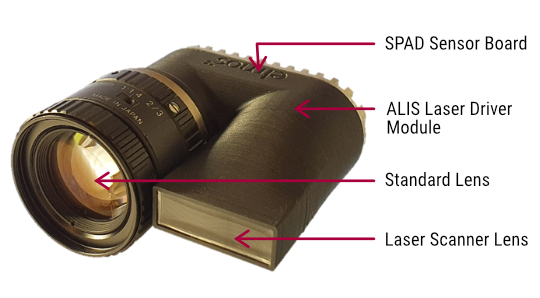 Discover the system performance of our 16 channel pulsed laser module combined with our 256x16 pixel CMOS SPAD array enabling a detection range of up to 192m with 3mm distance resolution at 30 fps and 905nm wavelength.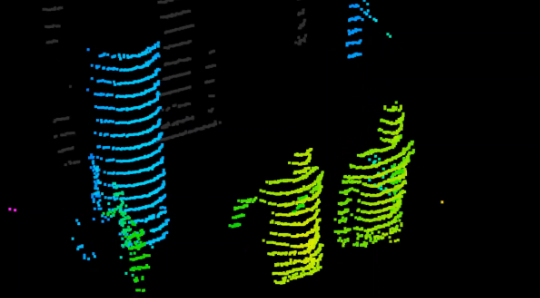 The research of Elmos was funded by the Federal Ministray for Economic Affairs and Energy in the framework of the IPCEI Microelectronics.